Waspu Oil for Pets
Regular price

Sale price

$39.98
Waspu Oil for Pets is a natural healthcare product that offers many benefits.
Firstly, seal oil is a low-allergenic natural food suitable for protein allergic or stomach-sensitive pets, and its ingredients can help alleviate pet allergy symptoms.
Secondly, seal oil consists of three types of fatty acids: DPA, EPA, and DHA. DPA has been proven to enhance pets' absorption of EPA and DHA. Waspu's seal oil product is made entirely from 100% natural seal oil, and due to its mammalian molecular structure, your pets can better absorb the Omega-3 fatty acids present in it, resulting in better health benefits.
Seal oil is rich in Omega-3 fatty acids and other essential nutrients, which greatly benefit pets' skin health and coat. Seal oil also possesses anti-inflammatory and antioxidant properties, aiding in maintaining pets' joint health and immune system functionality.
Nutritional Information

Ingredients: Natural harp seal oil, alpha-tocopherol

Medicinal ingredients /Par 5 ml (1 tsp)
______________________________
Omega-3 Fatty Acids
EPA...............................................360 mg (8%)
DHA.............................................270 mg (6%)
DPA..............................................171 mg (6%)
Total Omega-3 Fatty Acids.......1035 mg
Suggested Serving

Per/Par 5 ml (1 tsp)
______________________________

1 tsp = 5 ml (4500 mg)
______________________________
Body Weight < 5 kg....................1/4 1/2 tsp
Body Weight 5 - 10 kg..............1/2 - 1 tsp
Body Weight 10 - 25 kg............1 - 2 tsp
Body Weight 25 kg.....................2 - 3 tsp
Process & Facilities

Rendered from Harp seals in Newfoundland and Labrador, Canada.

The Canadian Food Inspection Agency (CFIA) and/or Health Canada certify all facilities used in the production chain. The oil meets or exceed all Canadian and World Health Organization (WHO) standards.

Our Registered Certified Veterinarian Health Product number is NN.CY8Y3 and is registered with Health Canada.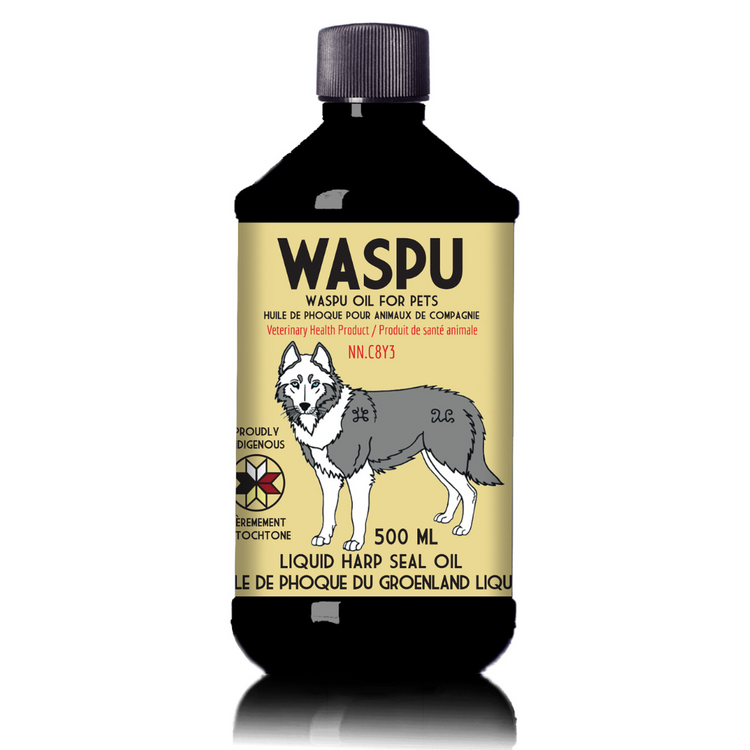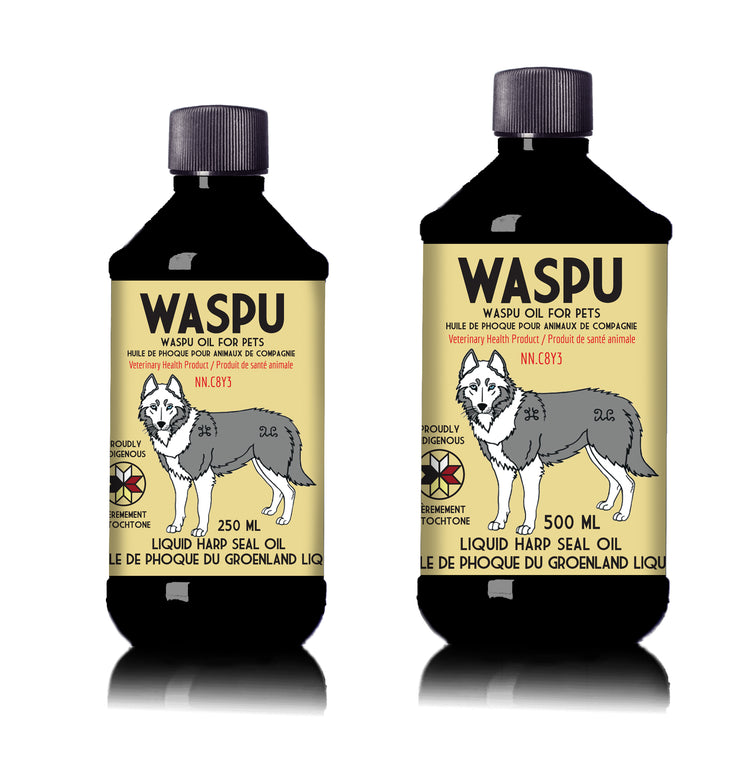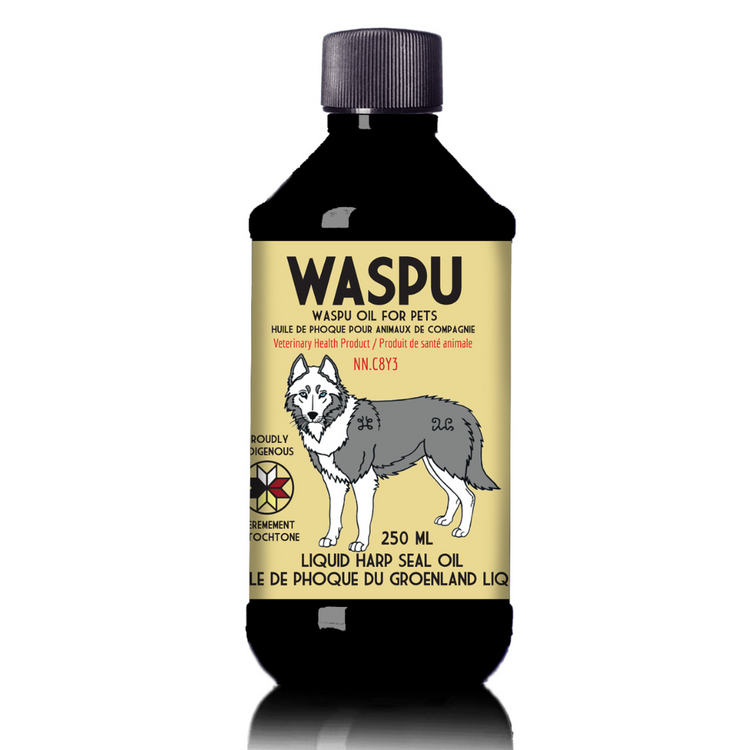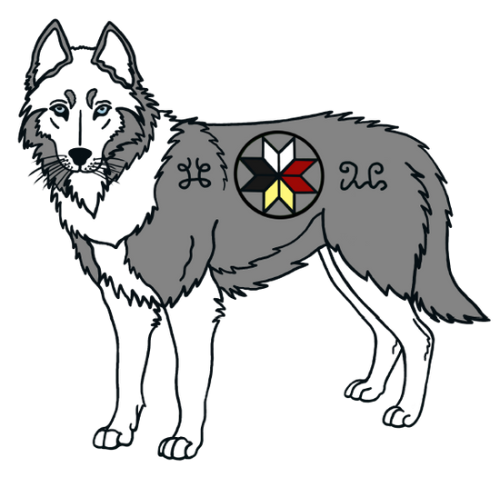 Why Seal Oil Omega-3 vs Other Omega-3

Better absorption. Seals are mammals, and the fatty acids found in seal oil are identical in structure to those in humans. This means faster, better digestion and absorption by the human body. Fish oil structure is unrecognized by the human system, resulting in a longer digestion time and overall poorer absorption.

Seal Oil Omega-3 offers a wide range of proven health benefits for people (and pets) of all ages. These include, but are not limited to, benefits to:

Cardiovascular health: reduces risk of cardiovascular disease; improves circulation and reduces the risk of blood clots; fights plaque buildup in arteries.

Joint health: reduces inflammation caused by arthritis and rheumatoid arthritis. Improves mobility and reduce joint pain.

Cognitive health: boosts central nervous system and brain function. Can improve memory and other cognitive abilities.Mental health: can help regulate and stabilize moods and reduce anxiety and the effects of stress.

Fetal health: aids the development of the baby's brain, eyes, and nerves.Baby health: Omega-3 seal oil increases DHA levels in breast milk, enhancing early development; babies of mothers who regularly consume seal oil Omega-3 also show better immune function.Maternal health: Omega-3 fatty acid can help reduce the symptoms of postpartum depression.

Fitness performance: athletes who consume Omega-3 seal oil have experienced less fatigue, better muscle activation, increased VO2 max, and overall improved performance.

Senior health: seal oil contains DPA, a rare Omega-3 that has been shown to be particularly efficient at fighting inflammatory diseases (such as arthritis), promoting cognitive function and brain health, and improving nerve health.

Pet health: most of the benefits humans experience apply to pets too. Omega-3 seal oil is great for overall pet health, including skin, coat, heart, mobility, and immunity.
Better Absorption Rate

Seals are mammals, just like humans (and dogs and cats). Because of this, the exact chemical structure of the Omega-3s found in seal oil are easily recognized, digested, and absorbed by the human body.

Fish have a very different physiology than mammals and oils derived from them are not as easily assimilated.
Helps Repair Blood Vessels

Data show that DPA helps to achieve maximal endothelial migration, a critical function in repairing blood
vessels*
Health Benefits of Harp Seal Oil for Pets






HEALTHY SKIN & SHINY COAT
Sustainable
Increase Energy
Improve Health
Made In Canada
Omega-3 Harp Seal Oil for Pets is Approved & Certified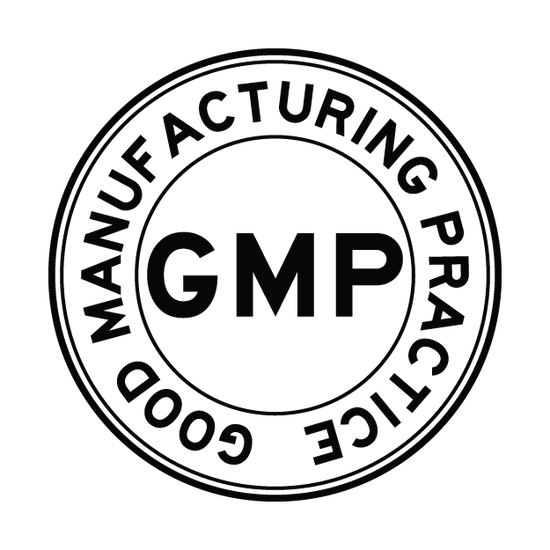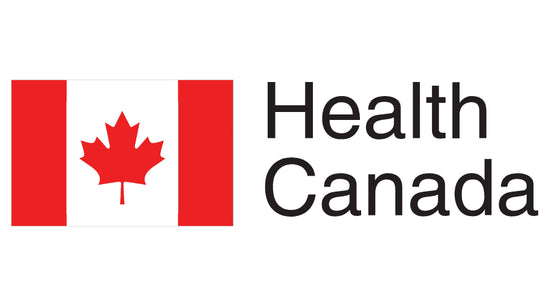 WE DO NOT INHERIT THE EARTH FROM OUR PARENTS. WE BORROW IT FROM OUR CHILDREN.